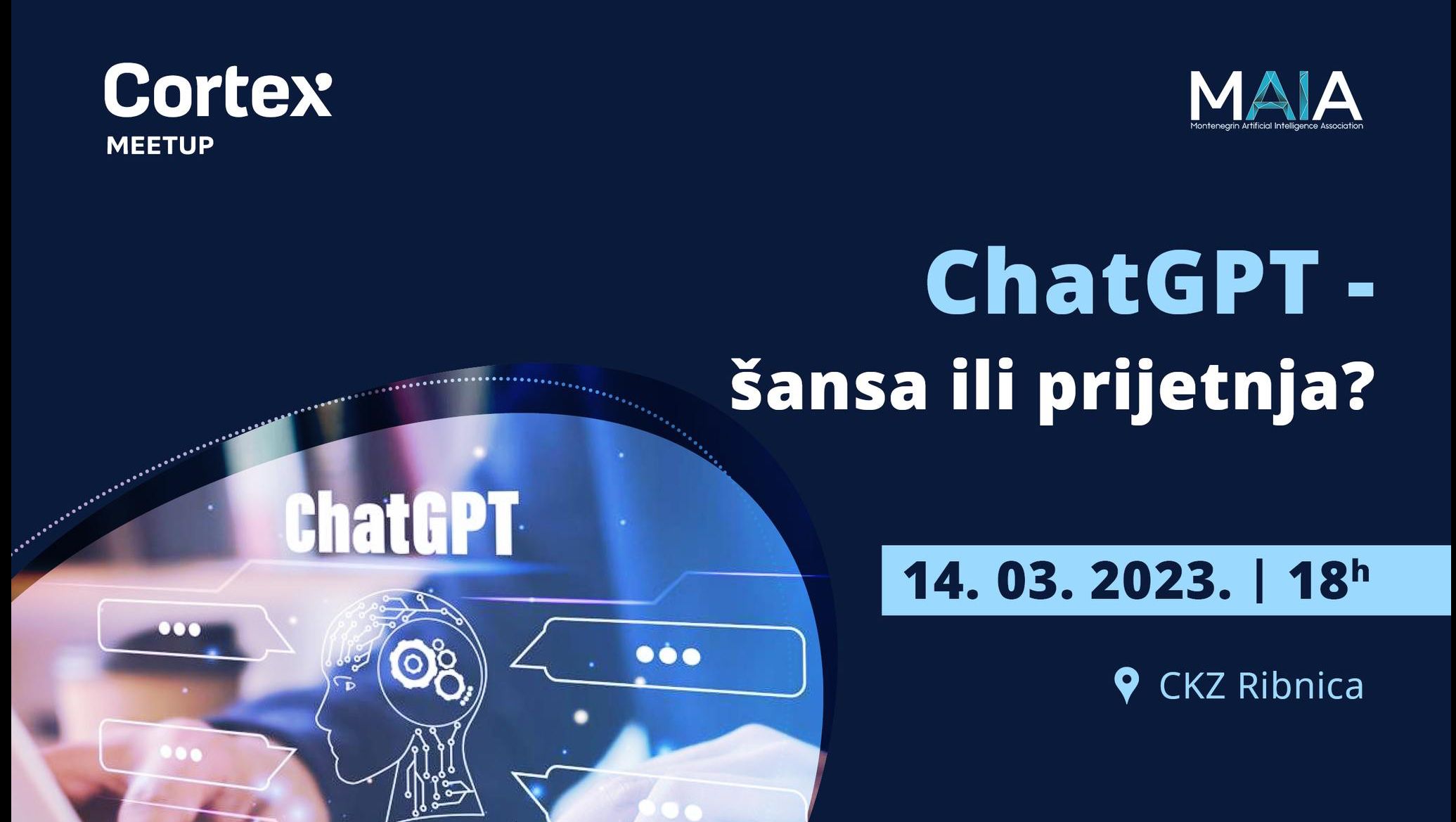 📢 Attention, attention!
Join us for an exciting Meet Up on the topic
"ChatGPT - Chance or Threat?"
organized by
ICT Cortex
in collaboration with
MAIA - Montenegrin AI Association
. This event is for AI enthusiasts, engineers, linguists, and anyone interested in technology.
You will have the opportunity to familiarize yourself with the concept of artificial intelligence (AI), the general division of the field, as well as the technical terms and general techniques needed to understand technologies such as ChatGPT through three lectures:
The event features three lectures:
- "The Growth and Development of Artificial Intelligence" by Anja Brtan, ML Engineer at Uhura Solutions
- "Introduction to Language Models" by Aleksandar Plamenac, teaching assistant at the Faculty of Natural Sciences and Mathematics, UCG
- "Language Models: ChatGPT" by Conor C. Peterson, Full Stack Engineer, Freelancer
Furthermore, the event will bring together a diverse group of panelists with expertise in the fields of artificial intelligence, ethics and social impact, who will discuss the topic in depth, and they are:
- Danilo Puric, CEO and Founder of Build Studio
- Milutin Pavicevic, Creative Director at Alicorn
- Damira Kalac, journalist at Vijesti
- Andrija Dulovic, psychologist at Logate
Moderator: Itana Bulatović, ML Engineer, AI Clearing/MAIA
Don't miss this great opportunity to learn more about the topic, share your thoughts, and meet new people.
🗓️ 14. March 2023. (Tuesday)
⏰ 18.00h
📍CKZ Ribnica
Join us for an evening of enlightening discussions and broaden your knowledge of artificial intelligence!
⌛ Registration closes on March 14th at 12:00h.
The number of seats is limited, so make sure to register and secure your spot on:
Registration link